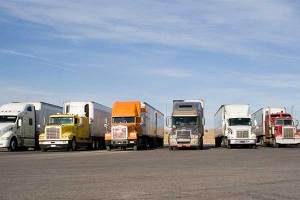 Should I outsource my fleet maintenance?
Rising maintenance costs. Data analysis overload. Not enough time dedicated to equipment upkeep. Does any of this sound familiar when thinking about your company's fleet maintenance department?
As a trucking industry professional, you know how crucial it is to keep vehicles in peak condition, and you most likely view fleet maintenance as one of the most important divisions in your business. While some companies hire in-house teams, others hire national maintenance providers to keep their equipment in top shape. Explore the benefits of outsourcing fleet care to see if it's the right decision for your company.
Benefits of working with national maintenance providers
National fleet maintenance providers are companies that manage all of your maintenance needs. They're dedicated to improving operating efficiency by developing a solid maintenance plan specific to your business. One of their primary focuses is to keep vehicles running so that you don't have to worry about equipment failure. The information below discusses four advantages of outsourcing and how it can benefit both private and for-hire fleet organizations.
Reduce costs
Operating an in-house maintenance shop comes with many expenses. Depending on your fleet size, you may need a large number of technicians for efficient upkeep. With more employees on the payroll, you'll have to budget for costs associated with incomes, vacation and sick pay. It's also important to consider how much truck components can affect annual revenue — most parts needed for repair or replacements aren't cheap. And if those parts aren't immediately needed, you'll need a place to store them and a method to keep track of inventory. Outsourcing means not worrying about these impacts and allows employees to focus on other parts of the business.

Improve productivity
One aspect of fleet maintenance involves recording and analyzing maintenance data to find insights for improving operating and repair costs. Working with a national provider helps improve your productivity by allowing you to concentrate on the core business, while someone else takes care of maintenance data analysis.

Decrease downtime
Not all breakdowns are inevitable. And when they do occur, you want your driver back on the road as soon as possible. Depending on location and time, it could be difficult for an in-house team to respond quickly. But, national providers work with quality service vendors countrywide — which enable them to find and dispatch someone whenever and wherever necessary.

Increase Control
While it may seem counterintuitive, outsourcing maintenance services can actually improve the control fleet managers have over their repairs. This is because guidelines regarding how you want your fleet managed can be communicated to your service provider, and real-time electronic communication can put more information at your fingertips than you may have today. By managing the process, instead of managing the people, many maintenance leaders find they're able to spend more time on key decisions and realize even greater control of the maintenance outcome.
Benefits unique to FleetNet America®
FleetNet America is a national maintenance provider that offers an array of maintenance services in all 50 states, Puerto Rico and Canada. We focus on enhancing fleet maintenance departments and delivering best-in-class customer solutions. As a customer, you benefit from:
Multiple services
No matter what fleet maintenance issues you're experiencing, FleetNet America has a service that can help. Learn more about each service below.
Widespread coverage
We've developed strong, close relationships with more than 15,000 vendors nationwide. Some of these connections date back 30 years and include multi-generational family businesses. We assess each customer's need, preference and situation before dispatching a vendor, and we continuously follow up with that vendor until the event is complete. Because we want our customers to receive the best service available, we rank vendors in our system based on price, downtime and quality of work. Vendors are continuously informed of their ranking position and understand that if they fail to meet our standards it can directly affect the business we provide them. Another benefit of our internal ranking strategy is that it gives us a list of who to call and who not call. Learn more about our service providers and how our long-lasting relationships and ranking factors benefit your fleet maintenance needs.
Real-time data
As a FleetNet customer, you'll set up an online account accessible via a secure web login 24/7. During a roadside breakdown, our customers will receive real-time email notifications via our Live Event Tracker (LET). When a unit is down, you can click on the single tracking link (provided in the email connected to the account) and track the event from start to finish. You can use this link to get live updates throughout the four stages (Created, Assigned, In Progress and Repair Complete) of the event. You'll also have access to past and current maintenance data via the website. Our representatives will work with you to find patterns and other insights that can help increase fleet efficiency.
VMRS coding
Vehicle Maintenance Reporting Standards (VMRS) is a universal coding language specific to fleets, and is used to keep track of all maintenance activities. FleetNet America has 22 Technology & Maintenance Council (TMC) VMRS Certified Specialists. We use VMRS coding to record all repairs and vehicle components so you can keep track of repairs made on all equipment. The primary benefit of recording this information is to help you reduce future maintenance events by making better maintenance decisions through data analysis.
Let FleetNet America handle your fleet maintenance
At FleetNet America, we're dedicated to working with customers to keep fleets up and running. If you're interested in learning more, call 877-559-9640 or comment below.