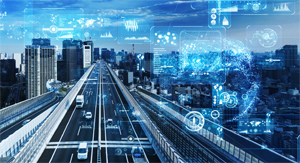 Electronic Connectivity Improves Communication to Reduce Downtime
For professional drivers and fleet managers waiting for service, minutes count, and FleetNet America

®

uses technology to quickly connect fleets with service providers to improve communication and reduce downtime.
"Ultimately, it is about providing the robust experience the customer is after, improving accuracy, and using the data generated through the system to get smarter about serving," said Don Doty, Vice President of Roadside and Vendor Relations for FleetNet America.
Today, fleets expect event information where they can quickly determine when the service provider will be arriving. Fleet managers also need to make decisions about freight.
"In our business, it is about having information at your fingertips so you can make informed decisions," said Paul Gildenhorn, Vice President of Sales for FleetNet America.
Drivers also want to be kept informed and don't want to be delayed due to a

roadside repair

.
"Driver experience has been a big deal for several years, and even more so now because of the driver crunch. As a result, fleets are trying to provide the best driver experience possible," Doty said.
Doty added that sharing real-time data between fleets, service providers, and FleetNet America speeds service, benefitting everyone involved.
Customers can submit events in several ways, including a

web portal

or a

mobile app

.
"With the online portal, the fleet personnel getting the call from the driver can quickly submit the event online, and within two minutes have it in the queue for the service provider to be dispatched. With the mobile app, drivers or someone in the shop can submit the event with a mobile phone. "What is great about that is we can pick up a GPS location if the location is turned on," Gildenhorn said.
Automatically pinpointing the location ensures the vendor gets directly to the truck in a timely manner. "Sometimes drivers might not be paying attention and know exactly where they are. There is also a safety element associated with being able to get to the driver faster," Gildenhorn said, "adding that the online portal and the app provide a live view of what is happening with every event." "With the mobile app, drivers can track the service event from their cab without having to call into us or their dispatch."
However, for the system to be most effective, both sides—fleets and vendors—must be

connected electronically

.
"Customers want answers, and to get those answers, we had to have the service providers onboard electronically," Gildenhorn said. "If you're communicating with the customer digitally, but then you have to call the vendor, that isn't very efficient."
FleetNet America has spent years laying the foundation to connect both sides and wanted to provide a wide range of connectivity options to customers and service providers, which can have varying levels of digitization.
Last year, out of the 70,000 service providers FleetNet America has access to, FleetNet America did business with almost 20,000 of those service providers, ranging from single-location providers to Fortune 100 companies. "They all use different systems if they use a system at all," Doty said. "Some of the smaller locations still write things down on paper."
FleetNet America was able to work with providers to interface with existing systems and created free and low-cost software as a service offering providers can use. For service providers not using an electronic system, there are several advantages to going digital, including increased efficiency and less opportunity for error. "Moving information from one system to another, to even possibly a third without having a human touch, dramatically increases the accuracy and time," said Kelly Thompson, Process Improvement Analyst for FleetNet America.
Additionally, FleetNet America, fleets, and service providers can proactively mine data fields. "It may be that you offered me fifteen jobs, and I only took two because I didn't have the right parts available. The service provider could look at stocking differently, which benefits the provider and our customers," Doty said.
Real-time data also benefits technicians, helping them get to jobs faster and increase their efficiency. "If I'm a technician out making a repair, I hit a button that says, 'I'm on the scene, and I'm ready to begin my work.' That happens in near real-time," Doty said. "Getting to the next job faster is important when you have fewer technicians working for you due to the tech shortage."
Learn more about how FleetNet America uses digital connectivity to enable real-time information sharing, improve accuracy and communication, and speed decision-making to improve the customer experience and drive up-time by calling 877-559-9640.