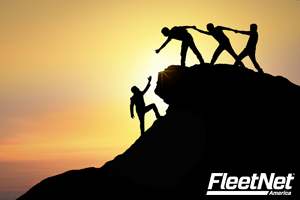 Whether it is delivering dry ice to a stranded reefer or bringing a burger and fries to a driver waiting on the side of the road, FleetNet America® is committed to going above and beyond to help its customers, ensure drivers are safe, and keep loads moving.
"Our parent company's motto is 'We Will Find a Way.' We've had some situations outside of the norm where we have used creative thinking to help customers out of a sticky situation," said Paul Gildenhorn, Vice President of Sales for FleetNet America.
Once, a driver wrecked and went off the side of the cliff into the ravine, so FleetNet America secured a bulldozer and built a road down to the truck to get in and out. Another time, when a load shifted, FleetNet America got a crane to lift a pallet of brake rotors that had gone rogue. Another time, a FleetNet America vendor followed a driver for 50 miles on Alligator Alley to make sure he got back without any problems.
FleetNet America even coordinated clearing the parking lot of a major U.S. newspaper. "They were going to lose the Sunday paper if we didn't scrape the parking lot," said Mike Hagaman, Senior Director of Customer Engagement for FleetNet America. "I've seen us put drivers up in hotels, run parts, or have a vendor take a part to another town. I did that myself one time."
When a major customer had a terminal and about 60 trucks flooded due to a hurricane, they needed a vendor, but those in the area had no parts and no power. "I ended up sending a vendor down from Birmingham, Alabama, with fuel filters and supplies," said Evan Costner, Senior Director of Roadside Quality Solutions.
During the polar vortex, a driver was stuck, and it was impossible for the roadside service vendor to reach him. FleetNet America worked with the local police to rescue the driver and bring him to safety. "The driver's phone signal was weak, and he was in an area we knew we couldn't get to, so we searched the township he was in, found the local police department for the township, and had them send somebody out so we could keep up with him," Costner said.
FleetNet America's goal is to assist drivers and fleets and make it easy to get the help they need and stay updated on what is happening. FleetNet America has electronic interfaces to speed and ease communications. Everyone involved in a call has access to real-time information on what is happening with a few simple clicks.
Streamlining communications and using technology to speed service is especially important in today's challenging operating environment, including a shortage of technicians, drivers, and capacity. "Everybody is fighting the labor issues, but we continue to work in support of our customers," Hagaman said. "Right now, it is even more important to keep what is on the road working."
FleetNet America has also been helping fleets get tractors and trailers inspected to ensure they're roadworthy and reliable between now and Christmas. "From a vendor relations standpoint, it is us helping people struggling with manpower issues of their own. We're figuring out a way to get a vendor and get things done," Hagaman said.
To learn more about how FleetNet America can help you keep loads and drivers moving when even the most unexpected situation occurs, contact us 877-559-9640.