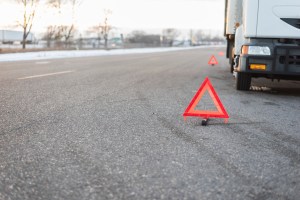 Emergency breakdown safety tips
Every roadside breakdown results in lost time and money. When trucks and drivers are at a standstill, customers have to wait longer for their deliveries, fleets have to spend more time on a single job, and both parties lose production time. Along with these issues, driver and equipment safety can become a major concern. To keep your assets safe, it's important to properly train drivers on how to handle breakdown situations.
6 things to do when fleet equipment breaks down
Breakdowns aren't something anyone wishes to happen, but if you find yourself stuck on the side of the road, don't panic. You can protect yourself and the vehicle while you're waiting for assistance. Follow these six tips to stay safe:
Get off the road
When you first notice an issue with the vehicle, find a safe spot to pull over. An emergency breakdown lane or other open area is ideal, but the most important thing is to get out of traffic. Otherwise, other vehicles may not be able to get around you. Getting the truck off the road will ensure that traffic can continue as normal, accident risk is minimized and your roadside assistance can easily get to you.
Make yourself visible
Once the truck is off the road, you should make sure it's clearly visible to other drivers. Turn the hazard lights on, activate the parking lights and raise the hood if possible. Only place red warning triangles outside if you feel you can do so safely. These measures help alert other drivers to your presence and can also make it easier for help to find you.
Exit the vehicle carefully
Always take caution when exiting the vehicle. Ideally, you should leave through the passenger side door so it's easier to avoid traffic. Don't exit the vehicle if you feel unsafe — instead, remain inside with your seat belt on. If the engine is smoking, get as far away from the truck as possible and call 911 so fire crews can be alerted.
Call roadside assistance
Call for emergency breakdown service as soon as it's safe. Tell the dispatcher what happened and your current location so they can send technicians to repair or tow the truck. Be sure to have any important numbers and policy information with you before calling so you can receive assistance quickly. Note that if temperatures are below freezing, you should call 911 before contacting roadside assistance — your safety is most important.
Stay away from the road
One of the biggest safety concerns during a roadside breakdown is being hit by passing traffic. To help avoid this, you should always remain as far from the road as possible. Crossing traffic or standing next to the truck may create a hazardous situation, so you'll want to stand behind a barrier or simply move away from the road.
Wait for help
No matter how minor the issue seems, you should always wait for professional assistance before attempting any repairs. Don't try to flag down other vehicles or accept help from passing motorists — roadside assistance crews are equipped with the proper tools and knowledge to get you back on the road quickly and safely.
Keep in mind that each breakdown is different, so you should always proceed with caution if you feel unsafe following any of these tips. Don't hesitate to notify the police if the situation could be potentially dangerous.
Finding the best truck breakdown service
One of the best ways to ensure safety during a breakdown is to use a reliable emergency roadside service. Look for a company that offers quick response times, knowledgeable technicians and service everywhere your fleet may travel. It's also a good idea to inquire about additional services the company offers, how invoicing works and what you can expect during a roadside event. Researching your options and understanding what service you will receive will help you stay calm during a breakdown.
Roadside assistance from FleetNet America
FleetNet America® provides emergency roadside assistance anywhere in the United States, Canada and Puerto Rico 24/7/365. The independent contractors, OEMs and dealers we work with can handle any breakdown scenario including:
Low fuel
Flat tire
Stuck/immobile vehicle
Dead battery
Engine trouble
Count on us to get you back on the road — faster than anyone else in the industry.
If you're interested in ways to potentially avoid the need for emergency repair, consider starting a preventive maintenance (PM) program for your fleet. It can help reduce the risk of truck breakdowns by keeping equipment and components properly serviced. Learn more about PM plans and emergency roadside assistance from FleetNet America by calling 855.836.3912.