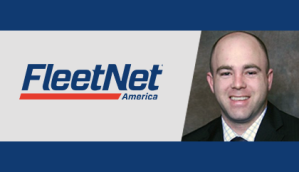 Media Contact: Heather Dean
Title: Director of Marketing
Email: heatherd@fleetnetamerica.com
Phone: 800.438.8961 x 2544
FleetNet America Names Vice President of Vendor Relations
• Don Doty joins FleetNet America
CHERRYVILLE, North Carolina, July 15, 2016 — FleetNet America®, an ArcBestSM company (Nasdaq: ARCB) and leading provider of maintenance and repair services for medium- and heavy-duty vehicles, announces the hiring of Don Doty as vice president of vendor relations.
Doty will be responsible for planning, development and management of FleetNet America's service provider network, fostering a partnership environment with tow companies, tire providers, truck repair shops and other heavy-vehicle repair services within the FleetNet service provider network.
"Our service providers are valued partners, as they are the face of FleetNet America to our customers," said Gary Cummings, president and CEO of FleetNet America. "Don has a rich background, and his experience and knowledge will greatly benefit our service providers and ultimately our customers."
Doty brings 10 years of transportation and retail management experience to FleetNet. Prior to joining FleetNet, he held various management positions at Bosselman Companies and most recently was director of service centers for AMBEST. He holds a bachelor's degree from the University of Nebraska at Kearney.
ABOUT FLEETNET AMERICA
FleetNet America® excels in vehicle maintenance and repair solutions for commercial and private fleets. We have The Skill and The Will to change the direction of fleet maintenance by reducing downtime, providing data to help reduce maintenance events and delivering best-in-class preventive maintenance compliance at the lowest total cost.
ABOUT ARCBEST
ArcBest Corporation® (Nasdaq: ARCB) solves complex logistics and transportation challenges. Our companies and brands — ABF Freight®, ABF Logistics®, Panther Premium Logistics®, FleetNet America®, U-Pack® and ArcBest Technologies — apply The Skill and The Will with every shipment and supply chain solution, household move or vehicle repair. ArcBest finds a way.
For more information, visit arcb.com, abf.com, pantherpremium.com, fleetnetamerica.com and upack.com. ArcBest Corporation®. The Skill & The Will®.