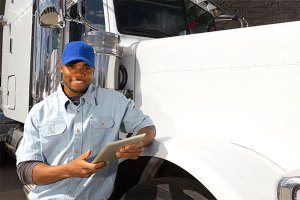 What you should know about electronic logbooks
Since 1938, commercial truck drivers have been required to track their Hours of Service (HOS) via paper logs or logging software. According to Forbes, "Truckers who failed to log, update or provide accurate information regarding their Record of Duty Status (RODS) led to 326,818 driver violations during 2015 roadside inspections." Due to the number of inaccurate driver logs, the Federal Motor Carrier Safety Administration (FMCSA) developed a rule requiring motor carriers and truck drivers to track their HOS electronically. Because of this, the FMCSA implemented the mandatory transition to electronic logging devices (ELDs). By learning what ELDs are, why they're necessary and how they function, carriers and drivers can successfully meet HOS compliance.
Electronic logging device FAQs
What is an ELD?
An electronic logging device is a hardware system that replaces a manual logbook and allows truck drivers and carriers to track HOS properly. It syncs to a truck's engine and records the time, location and driver status. By capturing real-time data via ELDs, the FMCSA hopes to improve HOS cooperation and reduce semi-truck accidents caused by exhausted drivers.
Who does the ELD mandate affect?
In 2012, Congress passed the "Moving Ahead for Progress in the 21st Century Act" (MAP-21), which authorized funding for federal-aid highways, highway safety programs and transit programs. This allowed the FMCSA to develop the ELD mandate, which will affect approximately 3.4 million truck drivers including those, who:
Maintain RODS
Operate commercial motor vehicles (CMVs) weighing 10,000 pounds or more
Transport hazardous materials requiring placards
When is the deadline?
Carriers and drivers using paper logs or logging software that doesn't meet ELD or Automatic On-Board Recording Device (AOBRD) standards have until December 18, 2017, to switch over. Any use of an electronic logging device before this deadline is voluntary. But, with the deadline quickly approaching, it's best to plan ahead so your drivers and trucks are ready for the change.
Are there any exemptions?
While a huge part of the trucking industry will be affected, there are some exemptions. Short haul drivers operating within a 100-mile radius and drivers without a Commercial Driver's License (CDL) operating within a 150-mile radius aren't required to use ELDs. The only exception to this is if the driver is required to keep RODS for eight days out of 30. Other exemptions include drive-away-tow-away operations and drivers of trucks manufactured before 2000.
A temporary exemption exists for motor carriers and drivers who use an AOBRD purchased before December 2015. Because AOBRDs function similarly to ELDs, they're permitted for use until December 16, 2019. Motor carriers and drivers must transition to an FMCSA-approved ELD by this date.
What are the benefits of using ELDs?
There's been some debate in the industry about whether the transition to ELDs is positive. But, these devices can offer many benefits to both carriers and drivers. The FMCSA is implementing this new regulation with the intentions to:
Improve safety. Because millions of semi-trucks and passenger vehicles share the road daily, there's a need to increase safety and decrease accidents. The FMCSA released a report that found, "vehicles with ELDs have a considerably lower crash rate — an 11.7 percent reduction in accidents and 53 percent fewer HOS violations were recorded." It's also estimated the new mandate will save 562 injuries and 26 lives annually.
Reduce paperwork. Because drivers will no longer track their HOS via paper logs, the use of paper will decrease significantly. According to Trucks.com, "Switching to electronic logs is expected to eliminate more than $1.6 billion in paperwork costs for motor carriers and law enforcement agencies reviewing driver's logs."
Increase driver productivity. Paper log books hinder a driver's production time, especially during roadside inspections. ELDs allow drivers to easily provide the Department of Transportation (DOT) and law enforcement officers with accurate HOS logs. Because of this, drivers can get back on the road faster.
Improve CSA scores. The primary goal of ELD software is to reduce HOS violations. Carriers and drivers who are in compliance with HOS guidelines are more likely to improve their Compliance, Safety, Accountability (CSA) scores.
How much does an electronic logbook cost?
A variety of FMCSA certified e-logs are available. If you're unsure which ELD is best, you can use this checklist to help you decide.
Can a smart phone or other wireless device be used as an ELD?
Smart phones, tablets and laptop computers can be used as ELDs as long as the device meets the technical requirements, can connect to the Internet, and can send data to carriers, law enforcement officers and the DOT.
Questions?
If you have additional questions about ELDs or the upcoming mandate, leave a comment below and we'll get back to you shortly.
ELD-related topics
Supporting documents
Harassment protection
Checklist for drivers
Checklist for carriers