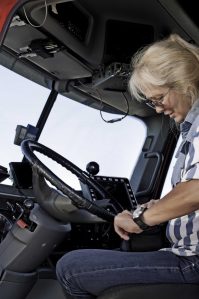 How many hours can truck drivers travel?
Professional truck drivers Joe and Susan each receive a new assignment from their carriers and log their activity as they travel to the next location. Based on the descriptions below, which driver is in compliance with Department of Transportation (DOT) driving regulations?
Joe: San Diego, California, to Portland, Oregon (1,083 miles, approximately 20 hours)
Joe operates under the 70-hour, 8-day work schedule, and is on his final day of travel before he's required to take a break. He has 10 driving hours remaining when he starts traveling at 11 a.m. on Friday, and drives eight hours before pulling over to eat and rest. At 7:30 p.m., he's back on the road and drives for two more hours. On Sunday morning, Joe wakes up at 6:30 a.m., goes on-duty at 7:30 to conduct a pre-trip inspection, and starts driving at 8:00 — he delivers his shipment at 6:00 p.m. in Portland.
Susan: Springfield, Illinois, to New Orleans, Louisiana (772 miles, approximately 11 hours)
Susan also operates under the 70-hour, 8-day schedule. She's just completed a 34-hour restart period and goes back on duty Monday at 8:00 a.m. At 9:00 a.m., Susan gets behind the wheel and drives five hours before taking a break. An hour later, she's back on the road and travels six-and-a-half hours to her destination in New Orleans. She decides to pull over at 9:30 p.m. to sleep and will deliver the shipment in the morning.
While both drivers comply with the 70-hour/8-day weekly limit and the daily 14-hour limit, Susan exceeded the 11-hour driving limit by 30 minutes — putting her in violation of HOS laws.
Understanding HOS rules
When drivers operate a commercial motor vehicle (CMV) for extended periods without rest, they're more likely to experience severe fatigue. Lack of sleep can increase the risk of accidents and put drivers in danger of chronic health issues. Because of this, the Federal Motor Carrier Safety Administration (FMCSA) implemented the HOS Final Rule in 2013, requiring drivers to record:
On-duty time. Any time the driver is working or has a job responsibility (waiting to load/unload, inspecting the truck, fueling, recording their HOS, etc.)
Off-duty time. Any time the driver is off work and isn't accountable for the truck or freight
Driving time. Time spent behind the wheel
Sleeper berth time. Time spent in the bunk area of the truck

The overall goal is to enforce accurate, safe and healthy driving limits and to hold drivers and carriers accountable when these rules are violated. Learn more about each rule (and some exemptions):
14-hour limit
The 14-hour limit is a fixed window of time for drivers to be on duty. Once that time is up, the driver can't work again until 10 consecutive hours of rest have passed. For example, if Joe starts his day at 6:00 a.m., he can only be on the clock until 8:00 p.m., and then needs 10 hours off. Within this rule, drivers are limited to 11 hours of driving and must take a 30-minute break.

11-hour driving period
This rules allows 11 hours of driving time within the 14-hour window. After this, drivers can't operate a CMV until 10 consecutive hours of "off-duty" or "sleeper-berth" time has passed. The remaining time can be spent working (loading/unloading, vehicle inspections, paperwork, etc.), just not driving. So, in the earlier example, Susan should have quit driving at 9:00 p.m. instead of 9:30. Even just half an hour past the allowed period puts her in violation (more on that below).

30-minute break
This rule says a driver can't operate a truck for more than eight consecutive hours without taking a half-hour break. To comply with HOS regulation, this break must be recorded as "off-duty" or "sleeper berth" and should include at least 30 minutes of uninterrupted rest. It's important to note this break is counted as part of the 14-hour limit and doesn't extend the allotted work hours.

60-hour/7-day and 70-hour/8-day limits
Most carriers operate a 60-hour, 7-day work schedule or 70-hour, 8-day schedule. Once the driver has reached the 60- or 70-hour limit for the week, they can't drive (even if they still have driving time remaining) until 34 consecutive hours have passed. The FMCSA established this rule to help prevent drivers from becoming too fatigued.
Exemptions
To help all drivers remain compliant and make on-time pickups and deliveries, multiple exceptions exist. The primary two exemptions are the:
16-hour exception
Also called the "short-haul" exception, this rule allows drivers operating within a 150-air-mile radius to extend the 14-hour limit by two hours once a week. While this does allow them to work past the 14th hour, they still can't exceed the 11-hour driving limit. Learn more about the 16-hour rule and which drivers qualify for it.
Two-hour extension
A truck driver can extend the 11-hour rule by two additional hours if unexpected conditions are present such as snow, ice or fog, or a slowed traffic due to a wreck. It does not include situations drivers should anticipate like traffic during typical rush-hour periods. And while this exception does allow for extra transit time, the 14-hour work limit still applies.
For more information, check out this full list of HOS exemptions.

Violation penalties
DOT and local police officers are dedicated to keeping roadways safer by enforcing hours-of-service laws. Officers review HOS logs during random and routine DOT inspections. Because of this, it's critical for drivers to accurately record their hours daily — a task electronic logging devices (ELDs) simplify. Drivers (and carriers) that aren't in compliance may face the following penalties:
Being placed out-of-service (OOS)
Paying $1,000 to $11,000 in fines (depends on number of violations and the severity of each)
Receiving poor CSA scores that affect overall safety ratings
Undergoing an investigation to see if the driver or carrier knowingly and willfully violated HOS laws (could lead to federal criminal charges)

Stay compliant by following DOT driving regulations
While HOS rules are somewhat complex, they can help reduce accidents by allowing drivers the rest they need to stay focused and healthy on the road. If you have any questions about DOT driving hour laws, leave a comment below, and we'll answer shortly.