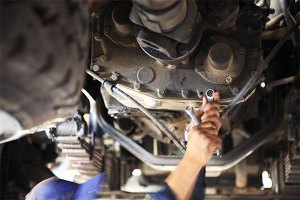 Control maintenance costs with routine check-ups
Like with any car or passenger truck, heavy-duty vehicle components simply last longer with routine care. Failing to maintain equipment could result in the immediate need for repairs or replacements — costs many fleets aren't prepared for on short notice. A preventive maintenance (PM) program can be budgeted throughout the year in small, regular installments, and help you avoid paying for repairs at unscheduled times. While a PM program requires time and dedication, it can prevent equipment breakdowns and lead to significant savings.
Four ways preventive maintenance saves companies money
Regardless of your fleet's size, establishing a consistent maintenance plan can produce cost-saving benefits in four potential areas:
1. Reduced downtime
How many of your vehicles are broken down on the side of the road or sitting in a shop? Out-of-service trucks can cause:
Delayed or missed deliveries
Temporary employee standby
The need for extensive repairs
Vehicles that don't receive regular upkeep are more prone to roadside failures — events all fleets aim to avoid. By starting a PM program, you're able to fix issues before they lead to breakdowns.
2. Improved productivity
If you've ever missed deliveries due to equipment failure, you understand the importance of maintaining productivity. Having a preventive maintenance plan in place ensures you have reliable equipment, making it easier to meet delivery times and have satisfied customers.
3. Extended vehicle life
Based on how often your equipment is inspected and how well it's maintained during normal operation, its lifespan can fluctuate by several million miles. Fixing minor problems before they become major problems keeps your vehicles and their components running in peak condition. Increasing the life of your fleet eliminates premature equipment replacement — meaning you can save thousands of dollars by not having to buy new equipment as often.
4. Decreased roadside maintenance costs
Did you know roadside repairs can cost up to four times the amount of repairs completed in a shop? Roadside assistance services require maintenance providers to come to your location no matter where you are or what time it is. Because these situations can lead to weekend or after-hours work (sometimes in remote locations), repair rates may be higher than expected. Reduce the risk of potentially expensive roadside repairs by executing a consistent maintenance plan.
How FleetNet America® helped a company save more than $700,000
FleetNet America works with all customers who use our preventive maintenance program to uncover and resolve vehicle issues. We work with companies in the United States, Puerto Rico and Canada to make sure they meet PM compliance. This keeps their trucks in transit and helps them save a substantial amount of money on maintenance over time.
For example, before a particular company started a PM program with FleetNet they were spending $23.09 a month per unit on maintenance. We began working with them to find solutions to reduce this cost. Over the course of four years, we were able to decrease that amount to $17.10 a month per unit. This reduction allowed the company to save $775,900 in maintenance expenses from 2012 to 2016. FleetNet helped this company save more than half a million dollars by enforcing a strong PM compliance program, standardizing business protocol across all locations, and recommending solutions where we saw problems.
Want to save money on your maintenance costs?
Start a PM program with FleetNet America and let us help you save money by avoiding unnecessary equipment breakdown. Contact us at 855-836-3912 to learn more.