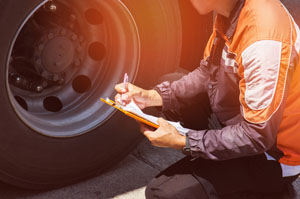 Proper tire care and maintenance are critical to safety.
Driving on improperly inflated, worn out or damaged tires is dangerous and against Federal Motor Carrier Safety Administration regulations. The good news is potential tire-condition violations can be avoided.
"I've always said your tire program is only as good as the air in your tires. Most problems come from under inflated tires," said Tim Moore, Vice President of TMcare® Operations at FleetNet America. "If you have a good tire program and you're consistently checking tire pressures, you shouldn't have a lot of huge issues."
The Commercial Vehicle Safety Alliance's Out-of-Service criteria handbook lists more than a dozen tire-related violations. Plus, tire violations can impact Compliance, Safety, Accountability scores.
Tire-related violations are among the top 10 roadside violations FMCSA reported last year.
Tire-flat and/or audible air leak (393.75A3) ranked No. 8 in overall roadside violations for the 2020 calendar year while tire-other tread depth less than 2/32 of an inch measured in a major tread groove (393.75C) ranked No. 9.
Moore said one of the most critical steps in overall tire care is checking tire pressures, which can be done manually or with a tire inflation system. Tires should be inspected as part of every pre- and post-trip inspection and during preventive maintenance. "It is all about keeping the tires inflated to what your company standards are," he said. "Typically, a tire will fail because of low air pressure."
Running tires at the right pressure also extends the tire's life, improves fuel economy and prevents additional problems. Debris from a tire failure can break a mudflap bracket or damage an air line, adding to a roadside repair's time and expense.
Fleets and drivers should also monitor tire tread depth. Some fleets choose to replace tires before the DOT minimum, especially if they run a re-tread program.
"You don't want to ruin that good casing by running it down to 0/32," Moore said.
CVSA has issued a bulletin explaining how to correctly measure the tread depth of commercial motor vehicle tires with evolving treads, Moore said fleets should discuss the best tread pattern for their needs with OEMs. "For some fleets, fuel mileage is more important, so they go to a closed-shoulder drive tire that has better fuel economy," he said.
Fleets also need to spec the right tire for the application. "If you're running a city fleet, you want something with a higher scrub on the sidewall. A regional fleet has different needs than someone who runs California to New Jersey," Moore said. "You want to make sure you work with your OEM and get the right tire."
Need help maintaining your tires?
FleetNet America offers a preventive maintenance (PM) program and tire repair services to cover all your needs. For more information, call 877-559-9640.