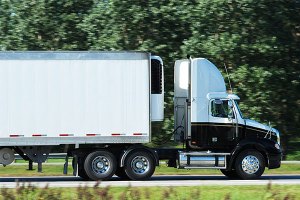 Taking care of a refrigerated trailer
Refrigerated trailers, also known as reefer trailers, have made the distribution of temperature-sensitive freight possible for nearly 150 years. This equipment is also commonly called a reefer truck; however it's important to note that often the refrigeration equipment is on the trailer and not the truck itself. As reefer technology advances, products like foodstuffs, pharmaceuticals, paintings, antiques, makeup and computers can be shipped faster and more conveniently. Because these trailers are essential for delivering shipments that require temperature control, it's important that carriers regularly maintain them to avoid equipment failure.
Tips for properly maintaining a reefer truck and its cargo
To maximize the lifetime of a refrigerated trailer and make sure it stays in optimal condition, consider using these helpful tips:
Clean the interior
Because reefers transport a variety of temperature-sensitive goods, it's crucial the interior is cleaned after each shipment. Sweep the floors to remove dirt, rocks, pallet wood, leftover products, shrink wrap and anything else that could potentially block proper airflow. If the previous shipment was meat, produce or dairy, the trailer must be washed out to prevent cross contamination of foods and to comply with the Food Safety Modernization Act (FSMA) implemented by the Food and Drug Administration (FDA). It's best to use a pressure washer and a U.S. Department of Agriculture-approved detergent. Consistently sweeping and washing the interior ensures each delivery travels in a sanitary environment.
Do a pre-trip inspection
Drivers should perform pre-trip inspections on their vehicle to make sure everything is operating correctly before heading out on the road. A crucial component to inspect is the temperature control panel. Because the temp must remain within a specific range (as stated on the Bill of Lading), the driver should run the panel through an entire cycle to see if it's functioning normally. If it's not, the temperature could become too high or too low, which could easily damage the product — costing both the carrier and shipper a lot of time and money. The driver should also check the exterior and interior for other malfunctions.
On the exterior, check the:
Tire pressure to reduce flats
All lights to make sure they work
Trailer body for damage
Engine for unusual noises
Belts and hoses for any faults and look for oil leaks
In the interior, check the:
Air chute for holes
Walls for cuts or holes
Drains for clogs
Fuel up
Be sure the fuel tank is full before arriving at the loading dock. If there isn't enough fuel, the cooling unit will draw any buildup from the tank into the lines, causing major mechanical issues. Because of this, most shippers won't let carriers move their cargo if the tank is less than ¾ full.
Take pulp temperature
If the trailer is carrying food, it's a good idea for the driver to monitor the temp using a pulp thermometer. Pulping refers to the process of checking the internal temp of produce or meat to ensure the food stays within the Bill of Lading's (BOL) designated temp range to keep from spoiling. As the cargo is being loaded, the driver should pulp at least every other pallet or box and record the temp on the BOL.
Follow loading guidelines
Many reefer units are designed with maximum loading heights and other interior markings to prevent goods from blocking or reducing airflow. While the shippers are loading the goods, the driver should monitor how high they stack the boxes and pallets, and how close they place them next to the walls. Following these height and space rules allows air to evenly distribute above, beside and underneath the freight — which helps keep the products fresh and well preserved.
Perform routine service
If a reefer breaks down during transit, the driver may face problems such as delayed or missed deliveries, and damaged freight. And while roadside events can happen unexpectedly, most can be prevented through a routine maintenance plan. Scheduling regular maintenance can help fleets find and fix problems before they become serious issues. It can typically help you save money by experiencing fewer breakdowns. If you're interested in starting a Preventive Maintenance (PM) program for your reefer trailers, FleetNet America® can help.
Preventive maintenance from FleetNet America
FleetNet America works with the carrier's Original Equipment Manufacturer (OEM) to keep reefer trailers running efficiently and to repair any mechanical problems before a breakdown occurs. The components we suggest looking at are based on the OEM's recommendations, intervals and warranty, and may include:
Sealing interior punctures and cuts to avoid moisture intrusion in the insulation
Completing a compressor load capacity test
Examining the condenser and evaporator coils
Inspecting the bulkhead and air chute
Cleaning the fuel screen
Learn more about how FleetNet can maintain refrigerated trailers by calling 877-559-9640.
What other questions do you have?
If you have other questions about maintaining your reefer equipment, leave a comment below and we'll answer shortly.