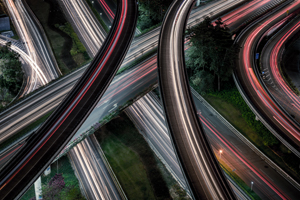 Inflation, the driver shortage, and supply chain challenges have created several operating difficulties for the trucking industry during the past year.
Sunbelt Rentals is no exception, but the company has used data to drive decision-making, improve costs, and increase uptime.
"It has been difficult to measure based on cost alone because we've had so much inflationary pressure," said Eric Jahnsen, Director, Transportation Fleet at Sunbelt Rentals.
In 2021, trucking experienced a 14.5 percent inflation rate. However, Sunbelt Rental's inflation rate was less than half of that at 7.1 percent.
"In theory, that is roughly about a 7 percent savings," said James Lovekamp, National Account Executive for FleetNet America®. "That is significant and FleetNet America has helped keep it a manageable expense."
Sunbelt Rental engaged FleetNet America in 2019 as a third-party partner to help manage and report maintenance costs, provide analytics, handle the day-to-day management, and work through maintenance and repair administration with the third-party shops. Today, the rental company tracks cost down to major components and monitors the average cost per unit per day. Sunbelt Rental has rolled out FleetNet America's services to 65 percent of its fleet and continues to grow the program.
Sunbelt Rentals has also been able to manage costs while expanding. Since 2020, Sunbelt Rental has added 50 percent more to its fleet but only experienced a handful more roadside emergencies.
Jahnsen said a focus on maintenance has led to increased driver satisfaction, which is critical as fleets struggle to keep drivers behind the wheel. "The maintenance we're doing on-site keeps those trucks from breaking down. That is helping the driver satisfaction," Jahnsen said.
According to American Trucking Association, the driver shortage has risen to 80,000, an all-time high for the industry.
Labor challenges facing the industry go beyond drivers. With FleetNet America, Sunbelt Rental has also been able to reallocate how administrative employees spend their time, thus minimizing time spent on purchase and work orders.
Increasing uptime is particularly important given that the age of Sunbelt Rental's fleet has increased over the past two years as OEMs have struggled to fill purchase orders. "Since our costs haven't significantly gone up compared to inflation and given the fact that our vehicles are getting older, we are improving costs because of this program," Jahnsen said, adding that Sunbelt has seen improved uptimes. "Based on the vehicles that have been enrolled in the program, we're seeing trends in a positive."
Jahnsen said one of the most essential costs related to downtime is customer satisfaction. "Most of these vehicles are delivering our product to our customers. If we have unscheduled repairs, we might not make those deliveries on time. I can't put a dollar amount on how important it is to keep our customers happy," he said.
To learn more about Sunbelt Rental's relationship with FleetNet America, view the latest case study.