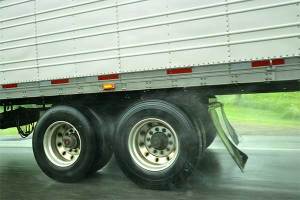 Truck driver supplies for on-the-road living
Spending most of your time in a truck cab has advantages and disadvantages. On the plus side, you probably visit many unique locations and meet a lot of people. On the downside, there are times you may have to sacrifice convenience and comfort to get the job done. Fortunately, a variety of trucking accessories are available to help improve the safety and efficiency of the truck driver lifestyle. Create a more secure and relaxing environment using the semi-truck accessories below.
Supplies for safety
Equipping semis with security equipment can help protect you, your personal belongings and other motorists from danger and damage. To reduce travel hazards, consider purchasing the following truck safety products.
Emergency road kit
It's a good idea to keep a fully stocked emergency travel kit somewhere in the cab — you never know when a breakdown or minor injury could occur. Be sure to include these supplies:
Reflective vest and work gloves
Tire gauge
Bottled water and nonperishable snacks
Standard tools (pliers, screwdriver, hammer, pocket knife, ice scraper, etc.)
Flashlight (with extra batteries) or flares
Reflective triangles

Bug shields
To prevent bugs, rocks and other road debris from flying into the windshield and decreasing visibility, install a bug shield. While the shield won't protect the glass from everything, it can reduce the number of things that hit it.
Travel safe
Spending most of your time living on the road means you probably keep many valuables in the cab. Protect items like cash, jewelry, electronics, birth certificates, Social Security cards and work documents from theft and damage by purchasing a portable safe.
Accessories for convenience
Working and living in the same space can take its toll if you aren't prepared. Make life on the road a little easier with these truck driver supplies.
Seat organizer
A great way to consolidate personal and business items is by storing them in a seat organizer. This accessory easily hangs off the back of the passenger or driver's chair and holds any loose items such as sunglasses, pens, books, headphones, maps and paperwork. Keeping your truck cab organized creates a clean environment and can benefit you during DOT inspections.
Shower kit
As a long-haul driver, you're probably accustomed to showering at truck stops and hotels. While hotels usually provide shower and hygiene essentials, truck stops may not. Putting together a shower kit ensures you always have the products you want and need. Include items like:
Shampoo and conditioner
Body wash or bar of soap
Shaving cream and razor
Toothbrush and toothpaste
Any other personal items needed on a daily basis

Products for comfort
While living in a tiny space isn't always comfortable, the following trucking accessories can help improve your lifestyle:
Seat cushions
Spending most of the day traveling can be physically exhausting. To increase comfort, use a seat cushion for extra support. Seating accessories are made out of a variety of materials like memory foam and gel to enhance the comfort and posture of all drivers. You may have to test out a few before finding one that works best.
Bedding accessories
When it's time to relax, it's important to have a comfortable space. Accessories such as memory foam mattress covers, pillows, electric blankets and fans can create a more relaxing space. And because getting enough sleep is critical for your health, it's important to make the bedding area as comfortable as possible.
What other semi-truck accessories should drivers have?
As someone who spends most of their time on the road, you probably know of more trucking accessories drivers need. Be sure to share them with our readers in the comment section below.