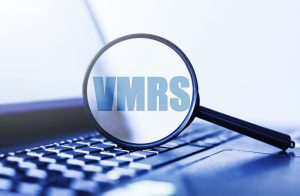 Data is a pool today's fleets can either drown in or swim in,
and when used correctly, information can unlock savings and improve efficiency.
The key to actionable data within maintenance operations lies within Vehicle Maintenance Reporting Standards—known as VMRS. The nine-digit, vendor-neutral numbers not only define exactly what is wrong with a truck and what needs to be done to repair it but also can uncover simple solutions that add up to significant savings.
When one FleetNet America® customer experienced a spike in lightbulb costs, FleetNet's team dug into the data, worked with the fleet, and discovered a new trailer spec meant that trailers no longer matched up with the dock height at one particular location. Adding dock bumpers was an easy fix to a costly problem. Another time, FleetNet helped a customer dig into the data to reveal a single tree branch was causing repeated mirror damage at a location. The solution was as simple as a chainsaw.
VMRS codes help fleets sort data and replace anecdotal information with facts that, when analyzed, reveal patterns and provide benchmarking for fleet performance from year to year. FleetNet uses VMRS codes on every event customers log and then conducts an insight review to analyze the data to drive down cost.
"When we start asking questions, that is when a lightbulb goes off. We see our customers have an AHA moment when the data flips a light switch on with them," said Paul Gildenhorn, Vice President of Sales for FleetNet America. "Sometimes fleets know there is a problem, but they aren't able to pin it down until we dig into the data."
In one case, FleetNet worked with customers to identify problems with radiators from a particular OEM. "We started seeing spikes in a few fleets. After we did research, we found that the OEM changed the radiator, and they were cracking after four years. One of the recommendations we made was to replace that radiator or at least inspect it at four years, so there weren't emergency roadside repairs," Gildenhorn said.
Every maintenance event logged by FleetNet America is coded using VMRS. VMRS can be used at any level, from total operating systems down to the individual part level and can identify parts and repairs across manufacturers.
"Our team will analyze the data and use their understanding of the account to tell you how to reduce your events based on solid information," Gildenhorn said.
Analysis of VMRS
codes can help pinpoint where failure rates occur so fleets can get ahead of any issues, helping to move a fleet from preventive to predictive maintenance.

"If you see that water pumps on a particular model start to fail at 350,000 miles, you can decide if you want to run a campaign to replace the water pump proactively at that point," said Tim Moore, Vice President of TMcare® Operations at FleetNet America.

The goal is to increase the miles between breakdowns and the need for roadside repairs. In addition to improving direct maintenance costs, putting VMRS data to use can create other benefits.

For example, they make it easier to track warranty information on parts and equipment, which can be particularly helpful when aftermarket parts warranties and extended warranties come into play. "You want to stay organized and be able to track those," Moore said.
A reliable maintenance program can affect driver recruitment and retention. A poorly handled roadside breakdown is one of the top reasons for driver dissatisfaction.
"Having a truck that is well maintained so a driver can make money and keep rolling is a big deal for the driver. If you have too many breakdowns, you might end up losing a driver," Gildenhorn said, adding that this time of year, driver safety is critical as well. "If you're in 15-degree weather waiting for someone to fix your truck, you're at risk."
Delays due to breakdowns can also cause missed deliveries, resulting in poor customer service.
As the universal maintenance language, VMRS lends itself to better maintenance reports. It also saves time, serving as the shorthand of maintenance reporting and eliminating the need for extensive written communications, increasing accuracy. To further drive accuracy, FleetNet audits coding to be 90 percent or better, which is much higher than most in the industry who only audit to 50 percent.
Learn more about available fleet maintenance options or call 855-836-3912 to speak with a FleetNet team member.