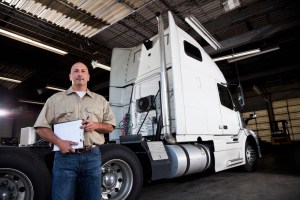 Starting a fleet maintenance program
Every minute a fleet vehicle is inoperable on the side of the road is money off of your bottom line. Fortunately, many roadside failures are preventable if you plan ahead and anticipate problems. Reduce downtime by implementing a preventive maintenance (PM) program that will help you find and resolve issues before your fleet ever hits the road.
What is Preventive Maintenance (PM)?
Preventive maintenance is a routine checkup performed on fleet equipment to make sure it's working properly. In other words, it means taking care of small problems before they become big ones. PM programs are designed to meet your specific needs and may include:
Inspections and tests
Measurements and adjustments
Part replacement or full repairs
Cleaning
Oil changes
With a reliable PM program, potential problems are easily discovered, fixed and documented to prevent unexpected breakdowns.
Benefits of preventive maintenance
Whether you're maintaining a small or large fleet, it's crucial to make sure the equipment is running safely and efficiently before it's in transit. With planning and preparation, your equipment is less likely to fail during daily operations — which means greater savings in production time and money.
With a PM program, you're able to:
Use more dependable equipment
Save time and money on maintenance costs
Reduce the chance of injury to the driver or other vehicles on the road
Offer more reliable transit times and service to customers
Scheduling routine maintenance can also allow your company to establish practices that help vehicles comply with safety and performance standards. While PM can never fully prevent equipment failure, it greatly reduces the chance and gives companies the ability to catch problems ahead of time.
Reactive repairs vs. preventive repairs
When it comes to trucking maintenance, some companies choose a reactive maintenance plan over a preventive one. With a reactive plan (also called a run-to-failure strategy), you wait until a vehicle is broken down before having it serviced. Many fleets may use a reactive maintenance plan with the mindset that it's less expensive than regular upkeep. But, waiting for roadside breakdowns to happen can result in emergency situations for the driver, lost production time, towing charges, and higher costs for parts and repairs.
According to the Office of Energy Efficiency and Renewable Energy (EERE), preventive maintenance has an "estimated 12 percent to 18 percent cost savings over reactive maintenance programs." And because PM is performed regularly, you can reduce the risk of equipment failure and drivers are less likely to break down in unsafe conditions such as extreme temperatures, on busy interstates or while driving late at night.
FleetNet America® preventive maintenance program
FleetNet America offers a PM program for straight trucks, tractors, refrigerated units (reefers), fork lifts and other equipment types. Trained coordinators monitor costs, hours of operation and equipment condition to provide the best maintenance plan for your fleet. We work with service providers in your area (including independent contractors, OEMs and dealers) to keep you in PM compliance. We will help:
Reduce roadside breakdowns
Maximize uptime
Preserve equipment life
Coordinate all services needed
Reduce maintenance costs
Provide secure online data 24/7
We work with each account to determine how often inspections should be performed so that all equipment stays in peak operating condition.
Begin your fleet maintenance
Start saving money and running a more productive fleet with planned preventive maintenance. For more information on how you can start a PM program with FleetNet America, call 1-855-836-3912.