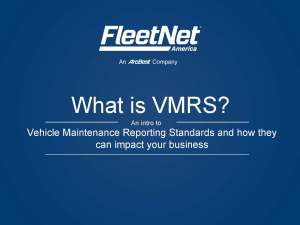 Why is VMRS important for fleet maintenance?
While some breakdowns may be unavoidable, you might be surprised at the number of equipment issues that could be prevented with the right information about your fleet. But how do you get that info?
Vehicle Maintenance Reporting Standards (VMRS) is the universal coding system that's used to track equipment failure and the cost of operating a fleet. Users can analyze VMRS data to gain insight into fleet performance, identify excessive breakdowns and find the root cause of each occurrence. Once these issues are identified, companies can take steps to reduce or eliminate breakdown events, which helps save time and money.
Learn more about Vehicle Maintenance Reporting Standards
The VMRS code system can be used in a variety of ways based on the individual needs of a company or fleet. Take a look at our latest SlideShare for a quick overview of VMRS and the benefits it can provide:
How does FleetNet America help?
Recording VMRS data for each breakdown and repair requires a fair amount of resources for accurate coding, data analysis and reporting (not to mention VMRS licensing and training). FleetNet America® records VMRS data for both emergency roadside and preventive maintenance events to provide customers with the information they need to make better fleet maintenance decisions. To ensure coding accuracy, 22 FleetNet employees are certified VMRS Specialists through the American Trucking Associations' Technology and Maintenance Council.
To learn more about how cost reduction data can help you improve fleet performance, complete the contact form above or call 800-438-8961.