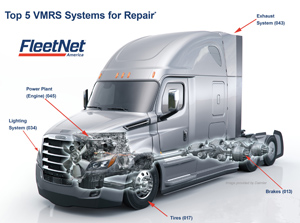 Timely, detailed data enables fleets to make informative decisions, but it is only helpful if it is accurate. FleetNet America has established a system of checks and balances to ensure the data it provides to customers is error-free and trustworthy.
"Customers use this data to purchase their fleet and to see where they are spending their money," said Misty Bryant, Director of Invoice Processing for FleetNet America. "We have several processes in place to track information and verify and code the invoices."
Vehicle Maintenance Reporting Standards, or VMRS, are at the heart of the data. VMRS provides a single, concise coding convention to manage fleets' assets and analyze operation costs. "Accurate VMRS codes are critical," said Paul Gildenhorn, Vice President of Sales for FleetNet America. "If you're making a decision on data that is only 50% accurate, what kind of decision are you making?"
At FleetNet, data accuracy is a priority starting with the first phone call when a breakdown occurs. "Our breakdown system, which is the system we handle the event in, keeps track of the time calls come in, the time work is completed, and what the vendors did. It captures the driver name, vendor name and info, and creates a PO number," Bryant said.
The PO number is placed on the invoice, which goes through FleetNet's indexing system. "We match up three key things—the PO number, the unit number, and the vendor name—so we're sure we have the right invoice for that customer," Bryant said.
FleetNet's team also confirms that the documented repair is correct. For example, an initial call may come in with a driver saying his truck isn't cranking. "We may have coded that as a cranking issue based on the driver input, but if we get the vendor's invoice and the vendor says it wouldn't crank because it was out of fuel, then we know it was a fuel issue, and we have the right data. If we don't make sure that vendor's invoice matches up, we're setting them up for failure," Bryant said.
Once FleetNet verifies the information is correct, the invoice is translated into VMRS code. As an added layer of protection, every 100th invoice is audited for VMRS coding and to ensure that unit numbers, vendor names, and services match.
"I have seen firsthand during my visits at FleetNet the auditing," said Jack Poster, VMRS Services Manager at American Trucking Association's Technology Maintenance Council. "No matter what size your fleet is, no matter how in-depth you might be using VMRS, it is extremely important that you audit what is going on. Once that VMRS leaves the gate, if it is wrong, it is hard to correct it."
FleetNet's data is 94% accurate, which is well above the industry average. What's more, FleetNet updates VMRS codes monthly.
"When new codes are developed, we have to make sure we have those codes," Bryant said, adding that most fleets update their VMRS codes once or twice a year.
Poster said some companies don't update codes at all. "Even if the updates don't apply to your business, it is always good to know what is happening," he said.
Because accurate VMRS codes are critical, FleetNet staff take part in training from TMC and are VMRS certified. Poster stressed the importance of ongoing training.
"You could have been using VMRS for 25-30 years, but it is always a good idea to have training to brush up," he said.
In addition to providing data to help fleets make decisions, FleetNet analyzes data to uncover solutions that drive down costs, Gildenhorn said. "We take a holistic look at the data not just from the data standpoint but the fleet management standpoint and come up with insights and recommendations for the fleets."
Poster said VMRS is a crucial behind-the-scenes tool for any fleet but agreed data must be correct. "Inaccurate data is worse than no data because it is taking you down a blind alley," he said.
Learn more about how FleetNet America uses VMRS coding to drive down costs by calling 877-559-9640.