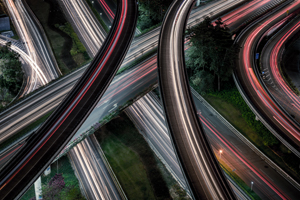 The trucking industry is facing operating challenges, including a lack of drivers and maintenance technicians to a shortage of equipment and parts, across all verticals.
Currently, transportation demand is outstripping supply, and even Congress is raising the alarm over supply chain challenges.
Bob Costello, Chief Economist at American Trucking Associations, said that within the macro-economy of trucking, there are three buckets: consumer, construction, and manufacturing. Year-over-year, retail sales are up 20.6%, single-family housing starts are up 23.2%, and manufacturing output is up 7.6%, all of which is driving demand for trucking. However, capacity is down 1.2% compared to 2020, 3.9% year-to-date, and 4.6% in August and September.
Costello explained that truckload carriers that have been unable to attract drivers are selling parked trucks, and some are even using existing equipment for parts.
Getting new equipment has been a challenge due to supply constraints. Kenny Veith, President and Senior Analyst at ACT Research said that ACT Research forecast models suggest that based on freight creation in 2021, the Class 8 industry will exit the year with about 80,000 units of pent-up demand for Class 8 trucks.
"We have an equipment issue. Then you throw it in with the truck driver shortage," Costello said, adding that the trucking industry has been dealing with a driver shortage since 2000.
The average age of a driver is pushing 50 years old. At private fleets and less-than-truckload carriers, drivers are well over 50, and the average age of a person getting trained is 35 years old. Costello said half of the new drivers needed are just to replace existing drivers who retire.
There is also a shortage of diesel technicians, which is expected to get worse. Baby Boomers make up 40-50% of the current technician workforce, and many plan to retire between now and 2030. "As the average age of maintenance technicians keeps rising, the shortage becomes more prevalent," said Tim Moore, Vice President of TMCare® at FleetNet America.
A quick search of open diesel mechanics on the job-search website Indeed.com, brings up 43,699 listings highlighting the current demand. To meet demand by 2022, the U.S. Bureau of Labor Statistics estimates that 67,000 techs will be needed, and 75,000 new techs must be added to the industry.
"No new assets are coming off the line, the lifecycle is spread out, and maintenance goes up. Plus, there are fewer service providers and technicians. It is a perfect storm for all the wrong things," said Don Doty, Vice President of Roadside and Vendor Relations for FleetNet America. "It is a pile-on effect in that it is a challenging environment."
Building Relationships
Many fleets are turning to strategic relationships to help navigate the current challenges. FleetNet America has cultivated several resources to help fleets access service, maintain equipment, and meet equipment and drivers' needs quickly.
"Being part of a network with leverage in this day and age is as important as it has ever been," Doty said, adding that there are benefits to being part of FleetNet America which works with large service providers, mom-and-pop independent operators, and OEMs. "It is well respected and well-known throughout the service provider industry. From a fleet perspective, if I'm a 25-truck fleet and I break down in Waxahachie, Texas, the odds are that person doesn't know me. The odds he knows FleetNet America and will make a repair happen are much greater and typically result in an overall reduced period of downtime."
Here are five ways FleetNet America uses its experience and network to keep its customers' equipment up and running and get it back on the road faster.
Vendor Relationships: FleetNet America has access to more than 75,000 service vendor locations in its database and has a staff of 12 people solely dedicated to forming and improving relationships with individual and OEM networks. "Those are paying dividends for FleetNet America today," Doty said. "At the end of the day, people do business with people, and relationships matter. When times get tough, we do lean on relationships, and we've been investing in relationships since Day 1."
Moore said that many fleets have always strived to get back into their own shop to make scheduled repairs, but the tech shortage is changing that. "As that labor crunch starts to hit home, you have to have a trusted, valued partner to fill those holes in those satellite locations. We see more of that," he said.
What's more, FleetNet America often knows the best provider for a particular job. "Because we have volume and volume creates consistency in business levels, we can tell who can handle what. A vendor might say they can handle something, but we might know they can't and can shift that somewhere else," Doty said.
FleetNet America also gains valuable information through its network of providers and can keep customers informed of any challenges, trends, or changes, such as recommended protocols it learns about from vendors or other customers.
Additional Tech Availability: FleetNet America can assist customers experiencing the technician shortage by stepping in and helping with scheduled maintenance and repairs at the customers' locations. That ensures they are getting their preventive maintenance completed to help avoid costly breakdowns. That is especially important for those fleets utilizing older equipment due to equipment shortage.
Risk Mitigation: One of the primary focuses of the FleetNet America vendor relations team is to mitigate risk for both the vendor and the customer. FleetNet America requires vendors to have evidence of insurance that meets certain minimums and keeps the certificate on file. "We know if there is a big issue with one of our customer's assets while we're stewarding it along the repair process that they have insurance to cover it, and we have a pathway to their insurance to make a claim without any incumbrances," Doty said.
FleetNet America also utilizes contracts that explain how the vendor and FleetNet America will behave and how a dispute will be handled. Plus, FleetNet America negotiates rates in advance rather than on a case-by-case basis, so customers know the ultimate expense. That also streamlines and speeds the repair process.
Electronic Event Connectivity: Electronic communications speeds the repair process as drivers or fleets can request service electronically and then monitor the progress. "Vendors can update their system, we update ours, and we can communicate in various ways to the customer," Doty said.
Paul Gildenhorn, Vice President of Sales for FleetNet America, said he has seen more willingness to move to electronic communications because of the labor shortages. "Fleets are more likely to say, 'Let's get this done because I don't have the labor I had a year ago.' FleetNet America has also created some additional platforms for customers to be able to submit events electronically to make it better and faster for them to get them rolling quickly," he said.
Root Cause Analysis: The goal of any maintenance department is some predictive analysis, and FleetNet America can help with that by tracking Vehicle Maintenance Reporting Standards (VMRS) and maintenance events. VMRS codes help fleets sort data and replace anecdotal information with facts that, when analyzed, reveal patterns. FleetNet America's team will analyze the data and use their understanding of the account to make data-driven recommendations on how to reduce events and enable technicians to get ahead of a repair before it becomes an issue.
Looking Ahead
While FleetNet America and its vendors are doing everything possible to streamline events, there has been an uptick in wait times, especially if parts are hard to obtain. "There are shortages and supply chain interruptions. This DEF quality sensors shortage hit home with a lot of fleets. In some cases, it doesn't matter what your purchasing power is. There are interruptions in the supply chain," Moore said.
However, forming strategic partnerships, planning for potential disruptions, becoming more efficient, and lining up alternative solutions ahead of time will help fleets and vendors weather the current operating environment. To learn how FleetNet America can help you, call 877-559-9640.