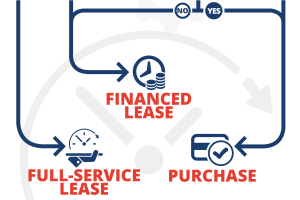 Is leasing or buying the better choice for fleet vehicles?
If you've done a lease vs. buy analysis for a fleet before, you likely know that leasing is typically viewed as less risky than owning. But with added considerations like vehicle lifespan, annual mileage, interest rates on loans, maintenance charges and vehicle disposal, the choice to either lease or buy becomes more complex. See what details should factor into your decision and learn how outsourcing maintenance could affect your choice.
Click here to view the lease vs. buy decision guide or keep reading to learn more about available options.
Three ways to acquire equipment
Before you can select the best course of action, you need to fully understand the possibilities. Leasing can be accomplished in several ways with different combinations of equipment and service, and purchasing comes with its own unique set of considerations. Ensuring you can use and maintain the equipment in a way that makes sense practically and economically is a crucial first step.
Explore the differences between full-service leases, financed leases and purchasing to get an idea of how each one could impact your fleet.
Full-service lease
A full-service lease includes use of the vehicle for a set number of years, repairs to issues that aren't caused by accident or abuse, and potential services such as 24/7 roadside assistance or access to other trucks during equipment downtime. These are typically bundled into one monthly fee. Companies using this lease type can see advantages such as:
Being able to budget based on a fixed monthly rate
Priority service during a breakdown event
Not being responsible for installing new technology

However, the lessee will usually have to pay an additional monthly mileage fee and will be responsible for maintenance costs not covered by the contract. Other possible drawbacks are being locked into a long-term agreement and potentially spending more on the maintenance fee than you would have spent on repairs. It's also important to note that many full-service lease contracts require the lessee to pay for any costs associated with bringing the unit back to "trade condition."
Financed lease
Financed leases are generally done through a financial institution — giving the lessee more control over how the equipment is managed. Instead of paying a monthly maintenance fee and relying on the lessor to ultimately determine when and how repairs are made, companies can make more of those decisions internally. This flexibility provides several benefits, including:
The ability to make maintenance decisions based on your data
The potential to save money compared to full-service lease costs
The option to make repairs in-house or outsource to a national company

On the other hand, taking responsibility for maintenance could result in higher expenses if it's not managed well. Fully understanding the lifecycle of fleet vehicles and developing a good strategy can help reduce costs.
Purchase
Purchasing fleet equipment (either with cash or through financing) means that all expenses related to the vehicle are your responsibility. This includes, but is not limited to, scheduled and non-scheduled repairs, insurance, interest, depreciation, taxes and registration. And if repairs are handled in-house, you'll also have overhead costs for maintenance shop operation and personnel. Though this may seem like a big undertaking, owning assets does allow for:
Complete knowledge about the history of the vehicle
Flexibility to use equipment as needed for your application
The ability to trade in or sell

Lease vs. own decision guide
Because there are many factors to consider when comparing lease types and ownership, making a choice can be difficult. Use the chart below to simplify the process, and learn more about the factors that can influence your decision.


Investing capital
Capital is one of the biggest concerns when weighing whether to purchase equipment. If there is significant cash flow in the company, buying new assets can be a good decision. However, if other areas of the business could use some investment (maybe you need new computers or software), it may not be the wisest solution. Consider all aspects of the company before tying up capital in a particular area.
Securing financing for a purchase
If the interest rate and terms make good financial sense, getting a loan to purchase equipment may be the best option. In these cases, loan payments can be less expensive than lease fees. Keep costs like sales tax, licensing and registration in mind when comparing, but don't forget about benefits like depreciation write-offs and the ability to fully manage the equipment.
Understanding vehicle lifespan
When you plan to keep a truck in operation for five years or more, owning becomes an ideal solution. This length of time is generally a good indicator of whether leasing or owning is the better decision since lease cycles can be shorter. If you put low mileage on the equipment and keep it in good operating condition, it's possible to save money by purchasing the equipment and using it for multiple years.
Having an in-house maintenance shop
The presence of an in-house maintenance shop would probably make a full-service lease unnecessary because you'd still be required to pay a monthly maintenance fee regardless of how often you used their services. In-house shops would be better suited for a financed lease or purchase situation, but aren't necessary for getting either. Using a company that specializes in fleet maintenance can be a more cost-effective solution in many instances.
Accessing maintenance data
Unless maintenance is done internally or is outsourced to a fleet maintenance company, getting comprehensive data about the equipment and repair history may not be possible. Keeping track of frequent failures, preventive maintenance timelines and each repair can help you save money by helping identify issues before they cause roadside breakdowns or other costly downtime.
Operating seasonally
Unless trucks are used year-round, leasing may not be the best way to get them because you'll be paying a monthly fee for something not in use. Owning would let equity build, and likely would be a good fit because the equipment won't accumulate many miles each year and may have a longer lifespan.
Using specialty equipment
Specialty equipment such as refrigerated and utility trucks often have different maintenance needs than traditional fleet vehicles and may require additional components to work for your application. Because of this, it makes sense to purchase these trucks so you can customize and maintain them as needed. Otherwise, you might install technology or parts on equipment you'll be returning to the leasing company.
Financed leases can also work because they can include the ability to purchase at the end of the lease term. This route would free up some of your initial capital investment, but still allow you to maintain the equipment to your specifications.
Managing vehicle disposal and depreciation
When you own a vehicle and decide it no longer makes financial sense to keep it in operation, you have the choice to sell it or trade it in on a new asset. You also have the ability to manage deprecation throughout its lifespan. If done well, this can result in significant financial advantages. However, you do have the risk of losing money on the investment. Carefully consider how these aspects will be managed and speak with your tax official before making a decision.
Choosing a truck acquisition strategy
Whether you conduct this analysis each year or are currently reacting to an industry change, the choice to lease or buy is highly important. Many factors are in play, but the decision ultimately comes down to how you're going to use and maintain the equipment. Everything from annual mileage to the frequency of preventive care can affect maintenance costs — making those factors important things to consider when weighing the options. Can you adequately manage repairs, keep track of preventive maintenance schedules for each truck and analyze data? If not, you could be losing opportunities to save money.
The FleetNet America advantage
FleetNet America® is a national fleet maintenance provider that manages emergency roadside breakdowns and preventive maintenance to keep trucks in peak operating condition. We track each repair event and provide detailed information— giving you the ability to make informed decisions about fleet maintenance on your financed-leased or owned equipment. By taking control of vehicle maintenance and using data to identify root issues, you can significantly reduce maintenance costs and extend vehicle life.