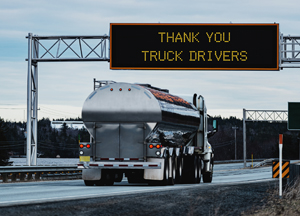 The COVID-19 pandemic has disrupted every industry. The driver and technician shortage, equipment delays, a lack of parts, and supply chain challenges have changed fleets' operating conditions within the trucking sector. Plus, demand has driven the cost of parts and labor higher, creating additional complexity.



"Supply chain challenges are definitely causing equipment delivery delays," said Paul Gildenhorn, Vice President of Sales for FleetNet America. "Fleets are having to make their existing equipment last longer. To add insult to injury, the demand is high. The ability to get that equipment in and properly maintained is tough in this current economic environment."
Finding New Solutions
New challenges mean fleets need to find new solutions, and FleetNet America has several tools to help fleets maintain uptime, increase driver satisfaction, and manage costs.
Access to a Large Pool of Trusted Vendors
The technician shortage affects all aspects of truck repair, OEMs, and independent providers, and fleets are all vying for the same pool of technicians. "We were facing that challenge before the pandemic, and it is even bigger now," Gildenhorn said.
FleetNet America has access to more than 70,000 service providers. "We have the largest medium- and heavy-duty network in the U.S. and Canada," Gildenhorn said, adding that FleetNet America ranks its vendors and knows which are the most appropriate for a particular need. "It is important to know who is best to call."

Equally important is the fact that FleetNet America keeps the insurance certificates on file. If a mishap occurs on the road, FleetNet America can help facilitate an insurance claim.
The Ability to Augment Staff
According to the Bureau of Labor Statistics' February jobs report, there are 10.9 million open jobs in the U.S., and many fleets are struggling with the current labor shortage. FleetNet America's solutions can help carriers augment their staff. "Many fleets have the means of handling breakdowns today, but the challenges are people. They may be having a hard time keeping them on hand or finding people who want to work overnight," Gildenhorn said, explaining that some FleetNet America clients rely on FleetNet America's network of vendors to handle overnight or peak periods.
Rapid Approval Processes
Uptime is always critical for fleets, but especially now, given the capacity crunch and driver shortage. FleetNet America has recommended approval limits, which can speed the emergency repair process. "The fewer calls we have to make for approval, the faster we can get the driver back on the road," Gildenhorn said.

FleetNet America also offers electronic event initiation options, which some drivers and fleets prefer. "The customer mobile app is becoming more and more popular. Drivers are sitting. They have their smartphones, and they can submit the event right on their phone. It makes it easy for them," Gildenhorn said.

Drivers can also use a new text-to-link feature, which allows drivers to call in, then have a link sent to their phones so they can communicate electronically without downloading the app. When they click the link, they are provided a form to enter their breakdown event. As always, skilled dispatchers are always available to assist drivers as well.
Clear Communication
Drivers, dispatchers, and carriers can stay updated on every emergency roadside repair with the live event tracker. It details notes on the event, and interested parties can access it through the app or the web portal. "We've been working hard over the last three years to get electronically connected with our service providers," Gildenhorn said, adding that FleetNet America touches a service provider electronically about 60% of the time in some way, shape, or form. "We encourage them to get off the phone. It speeds up the event and the fleet gets information must faster."

As part of the event tracker, interested parties can see what has been completed, what is needed for a repair, and what is waiting on an invoice.
Roadside Solutions and Scheduled Maintenance
In addition to assisting with unscheduled repairs, FleetNet America offers its total maintenance care—called TMcare®—to help with fleets' scheduled maintenance. Plus, FleetNet America's OnYard service brings scheduled maintenance, such as preventive maintenance and running repairs, to fleets at their convenience.

"This is ideal for areas where they're having difficulty finding technicians or routing equipment back to the shop. We can handle scheduled repairs and DVIRs, which helps prevent a breakdown on the side of the road," Gildenhorn said.
Improved Cost Control
Cost control is a top priority in TMcare, and FleetNet America negotiates rates and audits invoices. "We make sure every invoice we receive gets audited to hold the vendor accountable for the cost they are charging us and not overcharging labor," Gildenhorn said.

Customers have access by unit number to all their files, including repair invoices, preventive maintenance or inspection forms, and equipment photos. The files are DOT approved, and if customers get audited, they can access the file for all of the information they need.

Plus, each repair utilizes VMRS codes, which help fleets sort data and analyze services to pinpoint failures so technicians can get ahead of events before they happen.
Utilizing Outside Resources
Being part of a broad network can help fleets navigate the challenges associated with the post-pandemic world. "In the economy we're in today, where fleets are struggling to find staff, there is difficulty finding parts, technicians are hard to come by, and there are more deliveries for fleets to make, FleetNet America can come in and help them any way we can," Gildenhorn said.

Learn more about available fleet maintenance options or call 855-836-3912 to speak with a FleetNet America team member.