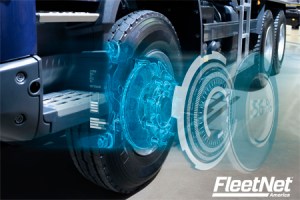 Vehicle Maintenance Reporting Standards—known as VMRS—provide a wealth of information to help fleets get to the root cause of failures, reduce maintenance costs, and increase uptime and driver satisfaction.
The nine-digit, service provider-neutral numbers cut through part numbers, save time, and eliminate human error, such as misspellings, to provide data-driven insights and improve decision making.
"It puts everyone on the same page," said Jack Poster, VMRS Services Manager at American Trucking Association's Technology & Maintenance Council. "The decision-makers don't want to hear anecdotal information. They want to see it in black and white. When you want to know what is being spent and what you're losing or gaining, VMRS helps in that regard."
VMRS can be used at any level, from total operating systems down to the individual part level, and can identify parts and repairs across manufacturers. The coding helps streamline the flow of data, particularly when fleets are dealing with multiple locations, multiple service providers, and multiple employees.
"It makes it easier for someone to say, 'This is what we need to do,' and it tells why," Poster said.
The codes help fleets uncover trends and the cause of repairs.
"We can look at different periods by VMRS codes, by events, and by repair. If we are seeing certain system codes that have a higher frequency of repairs in a certain period, then we can drill further and continue asking why," said Paul Gildenhorn, Vice President of Sales for FleetNet America.
For example, FleetNet America can look at makes, models, or years to discover problems.
"We collect locations. We can say, 'This location is having more brake issues on 2014s than other locations," Gildenhorn said, adding that it often takes asking why five times to get to the root cause of a problem. "We can address three to four of those whys and then we hand it over to the fleet so they can examine those units having the biggest problems."
In some cases, it may not be if a part will fail but when.
"You want to make sure you trade off or sell off those vehicles or address the repairs proactively," Gildenhorn said.
VMRS moves fleets closer towards predictive maintenance and can result in significant savings.
"We can help provide observations and ideas based on the data so they can drive down costs," Gildenhorn said.
As part of its Insight Reviews, FleetNet America examines VMRS codes to pinpoint where fleets are spending their money and why.
"We can give them an idea of where they're spending their money and why. If they fix that, they can see how much they'll save," said Mark Madias, Director of Sales Operations for FleetNet America.
Even saving a nickel on every quart of oil can add up to millions of dollars a year, depending on the size of the fleet.
"With the economy today and people's need to save money, using VMRS to track all maintenance can help with that," Poster said.
The data is beneficial for maintenance professionals that need to present information to corporate leadership. "They're not talking fluids and parts. They're talking cost and implementation," Gildenhorn said. "The VMRS information is easily digestible by somebody that is not that familiar with the maintenance department."
Audits and Updates
Because the information is only useful if accurate, it is crucial to audit information. "A fleet can't assume everything it receives from employees is correct," Poster said.
At FleetNet America, every 100th invoice is audited for VMRS coding to ensure that unit numbers, service provider names, and services match. "If people aren't accurate on the coding, then fleets are making decisions on inaccurate data," Gildenhorn said.
Updates are also critical as codes are constantly being added to keep up with new parts and new equipment. "With EVs coming out, there is a whole new data set," Poster said. "If you're using a fleet maintenance software, you want to make sure the software provider is updating their codes at least twice a year," Poster said.
FleetNet America updates codes monthly, and there are currently more than 34,500 codes.
"We need to have the latest codes to make sure if we're handling a repair, we're coding it properly," Gildenhorn said.
Increased Interest
Fleets are increasingly interested in using VMRS codes.
"I've seen an explosion of growth in different industries," he said. "I'm getting calls from utilities, state government agencies, cable companies, power companies. They all want to know where their money is going."
Learn more about how your VMRS codes can work for you by calling 855-836-3912 to speak with a FleetNet America team member.