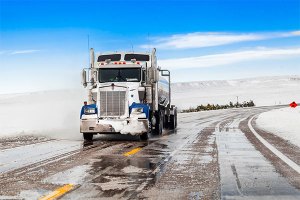 Preparing for winter: is your fleet ready?
According to the U.S. Department of Transportation Federal Highway Administration, more than 70 percent of roads in the U.S. are located in regions that typically receive more than five inches of annual snowfall. With many commercial fleets using these snow-prone routes on a regular basis, preparing vehicles and drivers for winter conditions is a task most companies need to address. Protect your drivers and equipment by teaching safe driving techniques, following maintenance best practices and establishing response protocols in case of a breakdown.
Driving tips and tricks
Drivers are one of the best lines of defense against accidents caused by winter road conditions. Snow and ice often lead to reduced visibility, lane obstructions and traction issues, but how a driver reacts to those situations can greatly influence the end result. Remind drivers to follow driving practices such as:
Driving at a slower rate and keeping at least a 10-second following distance behind other vehicles — on a freeway, light rain or snow can reduce speeds by 3 to 13 percent.
Looking for signs of black ice and taking extra precaution on bridges and overpasses.
Using lights and turn signals to alert other drivers of any changes.
Adhering to these winter driving tips can help ensure the safety of all motorists, but drivers should trust their instincts. If road conditions are too perilous or the vehicle seems unable to handle the route, think about turning around or parking until it's safe to continue.
Winter maintenance for commercial vehicles
Temperature drops and extreme conditions can cause vehicle performance issues. Along with completing preventive maintenance tasks like replacing worn-out belts and hoses, consider additional actions to keep equipment in peak operating condition. Areas to keep in mind include:
Fuel. Because diesel fuel contains paraffin molecules that can stick together when temperatures dip below freezing, it's important to use a winter blend. This will keep fuel from gelling, an issue that can lead to engine failure.
Oil. Engine oil is another fluid that gets thick in cold weather. To avoid non-starts and other engine problems, always use a viscosity that will work in cooler climates. Consult OEM guidelines for recommendations on appropriate oil types.
Batteries. Before setting out on the road, check that batteries are fully charged and functioning. Frigid weather often causes rapid battery drain, and old or weak batteries may lead to roadside failure.
Another effective way to prepare your fleet for winter is to look at data from previous years. If you had to perform multiple brake pad replacements or jumpstarts last winter, you can use that information to implement training, more accurately budget for repairs or find other ways to avoid those problems. Knowing how each vehicle performed during cooler months and taking time to look for trends may result in significant cost savings. Learn more about using maintenance data to reduce costs.
Breakdown and accident management
Even the most careful drivers and well-maintained vehicles can experience trouble on the road. Establishing procedures for handling incidents will keep employees and equipment safe and limit the amount of time it takes to respond. Before winter hits, you should plan for events such as component failure and stuck or immobile vehicles.
Breakdowns caused by component failure
Flat tires, dead batteries, faulty brakes and more can happen unexpectedly, leaving equipment and drivers out in the cold. Get up and running quickly and keep drivers safe by instructing them to follow some simple steps. These include pulling over to a safe area, making themselves visible and calling a breakdown service. And if temperatures are below freezing, it's a good idea to have drivers call 911 so they aren't exposed to the elements. See more breakdown safety tips.
Towing or winch-out scenarios
Icy road conditions and reduced visibility make it much harder to control a vehicle on the road — it's even more difficult to maneuver semi-trucks and trailers that already require more time to come to a complete stop. A towing service is often required in the event your heavy-duty equipment ends up off-road or immobile, which can be significantly more expensive in winter conditions due to the frequency of weather-related accidents. Research and select a trusted tow partner before extreme weather arrives. They may offer pre-negotiated rates with local towing services to help mitigate some of these costs.
Resource for winter fleet maintenance
FleetNet America® specializes in the services you're likely to encounter during the upcoming cold months, including fleet towing, roadside repair and equipment winterization. Learn more about available fleet maintenance options or call 855-836-3912 to speak with a member of our team.